Case IH had conducted a commercial training camp for more than 100 salespeople from Africa and the Middle East at Parys in South Africa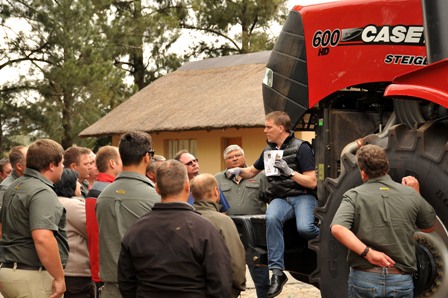 The practical training session gave the participants an opportunity to get behind the wheel and test drive Case IH tractors and combines. (Image Source: Case IH)
The two-week training session was held from 5–14 April and provided extensive first-hand information about the Case IH product range. The training focused on products and sales features specific to the respective markets and their customers. The training camp also had a customer day event that was attended by more than 400 visitors from Africa and the Middle East.
The practical training session gave the participants the opportunity to get behind the wheel and test drive Case IH tractors and combines, under the guidance of Case IH commercial training experts. They were shown the latest product advancements and enhancements and were encouraged to ask sales related questions.
"The training offered our dealers and their salespeople an excellent opportunity to experience in depth the Case IH product range and the power of the brand in the field," said commercial training manager for Europe, Middle East and Africa Gavin Enright.
The products highlighted at the event were the Axial-Flow 140 and 240 series, the Magnum and Magnum Rowtrac, Puma, Ecolo Tiger and True Tandem Turbo, among others.
The training was attended by 83 salespeople from Northmec, the main dealer in South Africa.
Northmec Case IH product manager Jacques Coetzee commented, "The event was a huge success and we all enjoyed it. The Case IH training team was very professional and the trainers were very knowledgeable on all the products. The training definitely made all of us more at ease with the machines and increased our product knowledge."