Case IH has unveiled a new generation of its Quantum specialty tractor range built to deliver better performance to orchard, vineyard and vegetable sectors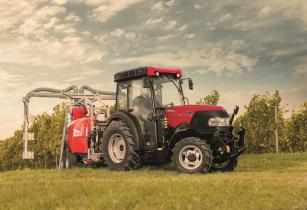 The new Quantum specialty tractor range comes with enhanced cab and controls. (Image source: Case IH)
The new models offer features that include new mid-mount hydraulic coupler possibilities and high flow pump options, a switchable cab filtration system from Level 2 to Level 4, improved cab interior and controls, and an integrated front hitch and PTO option.
Like their predecessors, the new Quantum models are available in V (vineyard), N (narrow) and F (fruit) versions. The minimum overall width of the tractor is 1,063mm for the V, 1,228mm for the N and 1,382mm for the F.
The new Quantum models are designed in the distinctive new front-end Case IH family styling, which, in addition to giving the tractors a fresh new look reflecting the lines of their larger counterparts, has practical benefits. Smooth lines help minimise the risk of either trees or bodywork becoming damaged during work and enable the wheels to tuck in closely to the chassis for improved turning and manoeuvrability.
For mid-mounted hydraulically-driven implements such as pruning equipment, new Quantum options include a revised, more compact mid-mount valve block which is better integrated and provide easier and faster coupling. Users who wish to expand the versatility of their tractors can now specify an integrated front linkage and PTO option, offering 2600 Kg lift capacity. There is also a 80 litres/minute hydraulic pump option on new Quantum models, to cater for implements with a high oil flow requirement.