Case IH's Magnum AFS Connect tractor has performed successfully under local conditions in a series of field trials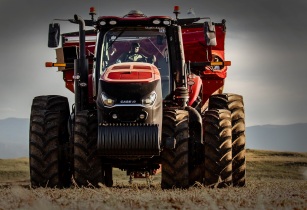 Since it arrived in South Africa, the Magnum AFS Connect 380 CVT tractor has completed approximately 600 hours of rigorous testing. (Image source: Case IH)
AFS, the advanced farming systems, is the name of Case IH's precision farming range, and the wireless connectivity allows instant communication and two-way data transfer between the machine and its manager. The AFS Connect technology focuses on remote display viewing of the tractor's AFS Pro 1200 operating screen by farm owners, managers and, with permission, the dealer supporting their equipment, thereby providing exactly the same screen view the operator is seeing in the cab.
The machine was tested at a large maize, soybeans, dry beans and wheat operation.
The tractor boasts new features such as a new full-length door, cab interior, instrumentation and new brake-assisted steering, all of which were put to the test by in-field operators.
Jaco Prinsloo, Case IH's product marketing manager for crop production, who is also responsible for overseeing and supporting the South African product testing programme said, "First, we tested it on the new Case IH/CNH industrial RTK network. This enables customers to work in the most accurate way possible, giving them around two cm repeatable accuracy. We also tested the machine on the new AFS 1 and AFS 2 correction signals. With this we could see the accuracy on the ground and how the machine performed, and also if this satisfied the customer expectations," he said.
"We also connected remotely to the machine via our Remote Service Tool (RST) to run diagnostics and do software updates and helped the operator by connecting via a remote display," he added.
One of the groundbreaking features of AFS Connect Farm is the ability for it to be linked with other cloud based farm management information systems (FMIS) such as Trimble and FarmersEdge FarmCommand platforms. The purpose of current FMIS is to meet the increased demands to reduce production costs, comply with agricultural standards, and maintain high product quality and safety.