Agriculture equipment manufacturer Deutz-Fahr has announced the launch of a new combine harvester range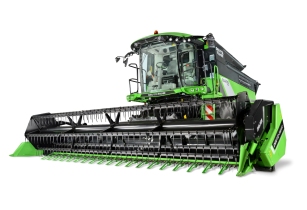 The C6000 Series has optional cutting header extensions for rapeseed and sunflowers. (Image source: Deutz-Fahr)
Following the release of the C9000 Series in 2013 and the C7000 Series in 2014, the company unveiled the new C6000 Series earlier this month.
The new machines are powered by 230hp DEUTZ TCD L6 T4F 6.1 L engines, which, as Tier 4-compliant, Deutz-Fahr called "the most fuel-efficient and environmentally friendly engines available".
Other new features include a joystick, which is used to control the transmission and main equipment functions, and a Combine Control Management (CCM) system, which allows the operator to verify the quality of work, presenting key information about the combine's activity at any time.
Deutz-Fahr said all units are built with planetary transmission to guarantee high cutting frequency of around 1,220 rpm, and standard headers are available in 4.2 metres, 4.8 metres, 5.4 metres and 6.3 metres.
The new series also have a number of useful features for the African market, including an air conditioned cab and an optional cutting header extension with two vertical side knives for harvesting rapeseed and sunflowers – both popular crops in South Africa.