Last week, Faymonville, the manufacturer of semi-trailers for the special haulage industry has reached an agreement to acquire 100 per cent of the shares of Industrie Cometto S.p.A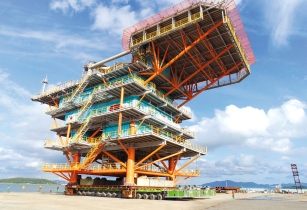 The Cometto MSPE. (Image source: Faymonville Group)
Industrie Cometto S.p.A is a leading worldwide acting manufacturers for heavy modular and especially self-propelled trailers. In addition, the company offers special self-propelled equipment for industrial applications: shipyard and steel mill transporters as well as for handling technologies.
By bundling Faymonville with Cometto under one solid brand, the Faymonville Group invests in new product segments and completes its product range. With this strategic decision, Faymonville set the milestone to expand in the self-propelled modular trailer segment and strengthens its market position.
The Faymonville product portfolio starts with the MAX Trailer brand which produces semi-trailers for payloads from 15-60 tonnes. Faymonville itself is the leading specialist for transport solutions from 30 tonnes up to 1,000 tonnes on non-propelled trailers. The Cometto brand covers the self-propelled trailer market.
According to the release from Faymonville, integrating Cometto in the Faymonville Group will be beneficial for both companies: Faymonville will combine its knowledge in production processes with Cometto's existing know-how in the self-propelled modular segment. The Faymonville quality management will not only interact in production but also in R&D, worldwide service and spare parts delivery to provide the best products and the highest service to its customers. "A higher production capacity together with an improved quality will be the result. This acquisition will significantly increase our market position" said Alain Faymonville, President of the Faymonville Group. With this takeover, it is hoped that the Faymonville Group can offer now worldwide transport equipment to its customers from 15 to 15,000 tonnes and above.