As a part of their efforts to expand domestic rice production and achieve self-sufficiency in Nigeria, former President Muhammadu Buhari, GCFR, commissioned the large scale integrated rice mill in the country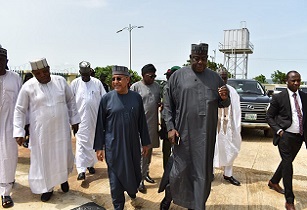 Minister of Agriculture and Rural Development, Mohammad Mahmood Abubakar revealed that for the past eight years, his regime had intensively supported agricultural development in Nigeria. (Image source: FMARD)
The event which recently took place at Sheda in Kwali Area Council, Abuja was in line with the Federal Government's mandate to achieve food sufficiency, security and income generation. Highlight of the event was the cutting of tape, commissioning of the project and inspection of the rice mill facility by the representative of President Muhammadu Buhari, ministers and other dignitaries. In attendance were representatives of Estu Kwali, FCT Minister and Minister of Information and Culture, stakeholders, and top management staff of the Ministry among others.
The former President who was represented by the Minister of Agriculture and Rural Development, Mohammad Mahmood Abubakar revealed that for the past eight years, his regime had intensively promoted and supported agricultural development in the country through the Anchor Borrower's Programme (ABP), and the Grain Aggregation Centres, among others.
He noted that these programmes demonstrated the Federal Government's commitment to addressing critical infrastructure projects and in keeping with the ideals of the Change Agenda, which geared towards economic diversification from oil and gas to the agriculture sector.
While emphasising the significant increase in Nigeria's paddy yields and domestic rice production, President Buhari encouraged Nigerian farmers to invest in any aspect of agricultural value chains by using the available incentives and undertaking agribusiness to aid food production in the country.
In his remarks, the Minister of State, Federal Ministry of Agriculture and Rural Development, Mustapha Baba Shehuri highlighted that the plant mill commissioned was one of the 10 integrated rice mills that President Buhari had approved under the Public Private Partnership (PPP) model based on the 'build, operate and own'. He expressed optimism that the remaining nine rice mills would also be commissioned soon.
"It is through this synergy that we have been able to establish the state out right mill equipped with cutting edge technology to process rice on large scale, significantly reducing our reliance on imported rice and creating a sustainable supply chain for our domestic market," stated the representative of FCT Minister, secretary, Agriculture and Rural Development, Mallam Abubakar Ibrahim. He further pointed out that the occasion marked a momentous step towards achieving the goal of self-sufficiency in rice production and transforming the agricultural land scale for a great nation.