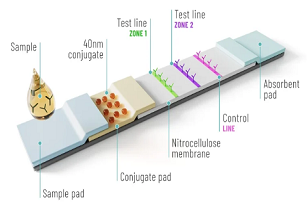 Biotechnology business FOLIUM Science, will be launching it's latest range of innovative products at the AgriTechE REAP Conference taking place on 8 November in Cambridge, UK
---
The new product SWIFTR, which uses the Guided Biotics technology is a lateral flow test for the detection of the bacterial infection Salmonella in poultry production. What makes the product unique is its ability to obtain a result within a short span of one hour. This means that the infection detection time is greatly reduced, compared to other currently available tests which take up to five days to identify an infection.
Another plus point is the simplicity of the test, which requires no special training or laboratory equipment to perform. This means that it can be quickly carried out on the farm to protect the health of the flock and prevent the spread of infection.
SWIFTR can also very accurately identify small pieces of genetic material from the pathogenic bacteria that the user is looking for in the sample, even down to individual Salmonella serovars where necessary, thanks to its use of advanced molecular biology. In addition, the extent of the infection can also be quantified so that appropriate measures can be put in place.
"We know that rapid testing for bacterial infection is the Holy Grail for the food industry," said FOLIUM Science CEO, Ed Fuchs. "Our first SWIFTR test is for the detection of Salmonella but we are also developing tests for other bacteria such as Enterococcus, Clostridium and E.coli. And while poultry production is the first step on the ladder, there are numerous applications in animal farming and across the food industry for a test that is quick, simple, and accurate. We are working with our partners in the poultry industry to roll out the use of SWIFTR in poultry production in early 2024."
For more information, visit: https://foliumscience.com