TOMRA Food has been recognised for its accuracy in foreign material identification by winning the prestigious International FoodTec Award for 'using artificial intelligence and cloud technology to improve food safety, quality, and traceability while increasing process efficiency'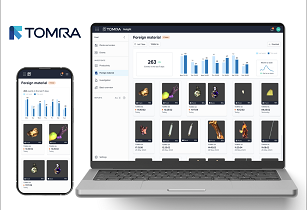 TOMRA's Foreign Material Identification solution is integrated with the cloud-based data platform TOMRA Insight. (Image source: TOMRA Food)
When assisted by AI, sorting and grading machines can make more accurate 'accept or reject' decisions, recover more good product from compromised raw material, and more precisely classify the products on the line into different grades. TOMRA's solutions attain these advantages by adopting the AI method of deep learning that uses pre-trained models to teach computers how to process data, such as complex patterns in photos. In combination with different sensor technologies, these images of foreign material captured by TOMRA sorters are analysed by a deep learning model that help to constantly improve the solution by continuously retraining the model.
TOMRA's Foreign Material Identification solution is integrated with the cloud-based data platform TOMRA Insight which automatically extracts data from sorting machines to provide real-time and retrospective insights into raw materials and machine performance. Through a user-friendly dashboard, machine operators get a chance to instantly respond to TOMRA Insight's live data, and make adjustments to improve product consistency. Stored data can then be analysed to obtain higher-level insights which enable trend-monitoring and comprehensive analyses across a single or multiple seasons, within a specific region, and across regions. These insights empower users to optimise processes, drive efficiencies, and enhance overall performance.
"We are pleased that the jury of the International FoodTec Award has recognised TOMRA's industry-leading innovations in AI and cloud-technology, and the importance of these solutions to customers. Digital solutions and AI are set to play an increasingly important role in meeting the needs and desires of food consumers, and in helping to feed the world's growing population. This will require more food production and less food waste," commented head of Digital at TOMRA Food and Recycling, Felix Flemming.
For more information, visit: www.tomra.com