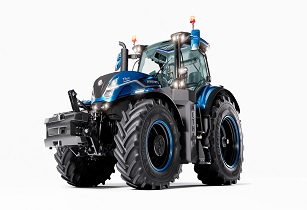 Among a wide range of innovations across several categories, TIME Magazine has chosen New Holland's T7 Methane Power LNG tractor to be featured in their Best Invention List 2023
---
TIME has been expanding their categories in response to the rapidly-changing progress in fields such as artificial intelligence, sustainability and more, paying special attention to growing fields—such as the electric vehicle industry, green energy, and the metaverse. This year's special mentions list featured 50 inventions recognised for their unique impact.
New Holland's T7 Methane Power LNG (Liquefied Natural Gas) tractor is an industry first and the latest development in the brand's Methane Power tractor offering. With its LNG power solution, this tractor more than doubles the autonomy capability of the current methane powered range: using liquefied methane delivers four times as much fuel storage capacity when compared to compressed gas (CNG).
The LNG tractor can be fueled by fugitive methane, strategically captured from livestock waste slurry lagoons. The methane is converted into fuel-grade liquefied natural gas (LNG) using patented cryogenic processes solving the low boiling point challenge historically seen with this fuel source. So far, the LNG tractor has worked across multiple continents with prototypes being developed and tested to continue to deliver the best experience for our farmers around the world.
"This Mention reflects the long commitment New Holland has in sustainability and our role of leadership in the agricultural sector. This award is a milestone for the company so congratulations to everyone who worked so hard to achieve such incredible results," said New Holland brand president Carlo Lambro.