Olam Progıda, one of Turkey's leading hazelnut exporters, has been increasing their efficiency and product quality with TOMRA's sorting machines for more than 20 years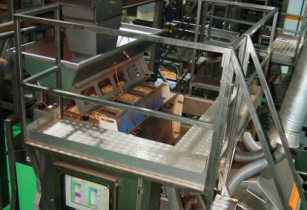 Olam Progıda has been using TOMRA Food's sorting technologies for the past 20 years and there are 18 TOMRA sorting machines in its four facilities. (Image source: TOMRA)
The company, which most recently purchased TOMRA Nimbus BSI+ machines that were delivered in 2018, ascribes its long-standing partnership with TOMRA to its satisfaction with its added value to food safety and with its after-sales services.
Olam Progıda has been using TOMRA Food's sorting technologies for the past 20 years and there are 18 TOMRA sorting machines in its four facilities.
Aykut Gören, production and technical services manager at Olam Progıda, explained, "Turkey supplies 70 per cent of the annual hazelnut production of the world. Turkey has been delivering high-quality hazelnuts to the world markets for centuries. The Turkish hazelnut is also very suitable for industrial use, but of course, processing conditions are at least as important as production conditions. At Olam Progıda, we process hazelnuts in our modern integrated facilities equipped with cutting-edge technology. The performance of TOMRA sorting machines in our production line contributes greatly to our productivity."
Olam Progıda exports more than 32,000 tonnes of processed hazelnut every year primarily to Germany, Italy, France, Austria and Switzerland.
Gören further added, "Products coming from the field first head to our cracking facilities. Before and after the cracking operation, there is a considerable amount of foreign materials in the product. Our first step in food safety is sorting these unwanted materials with TOMRA equipment."
"Since it enables us to conduct our sorting operation 24 hours-a-day with the same performance, our efficiency increases considerably. For this reason, it is imperative that we equip our facilities with world-leader TOMRA technology," Gören commented.
Olam Progıda's partnership with TOMRA started with BEST Sorting and has continued over the past 20 years. Most recently, in 2018 they took delivery of four units Nimbus BSI+ sorting machines, featuring the advanced BSI+ technology, which with its user-friendly software detects not only foreign materials but also visual discrepancies by defining defects peculiar to hazelnut.
The BSI+ module uses both near-infrared and visible spectrum wavelengths to detect product defects for a more detailed classification capability. The BSI+ module detects product defects both visible and invisible to the human eye using near-infrared spectrum. This technology makes the Nimbus BSI+ the market leader in detecting defects in hazelnuts, peanuts, almonds and all other nuts including bug bites, rot, colour defects and musty pieces.
Ahmet Koçyiğit, Turkey sales manager at TOMRA Foods, noted, "Nimbus BSI+ is a technology that has proven itself globally in the nut sector, and we are consolidating our superiority in software with mechanical developments."