Nardi, the Italian industry that designs and manufactures agricultural trailers and combines headers for worldwide harvesting, boasts the Sunstorm pans in its range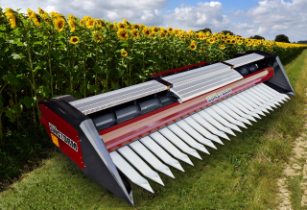 Sunstorm Pans offers special and unique hydraulic to boost performance. (Image source: Nardi)
The sunstorm pans is a free rows system equipped with a high-performance mechanic that guarantees greater strength, high speeds and nearly zero losses.
It is suitable for all combine harvesters sold on the market, and the header is also available in colours of all combine harvesters.
A sunflower is a simple crop to grow, but a delicate crop to harvest, especially when it is dry. Nardi Sunstorm has a specific cutting system to be the most delicate and to keep all seeds inside. It is designed to work on large hectares, allowing savings in time, fuel and field steps, resulting in cost savings.
Nardi Sunstorm can also harvest down crops. Frame and front pans are so robust that they can work to touch the ground.
The frames are reduced to a minimum and therefore the width of the machine corresponds to the effective working width, regardless of the seeding distance.
Special and unique hydraulic options are available to boost performance, such as front shield chopper and registerable position.
The head is like a comb, the pans gently guide the stems to the knives. The concave structure welcomes any seed that has fallen as if it were a box. The pans are in white colour to ensure the best visibility.
The shield allows to drive each individual sunflower to get the right position when cutting, preventing the reel from directly striking the flowers. All cut flowers are pushed immediately but gently to the oversized auger (about 55 cm). The distance between the reel and the auger is reduced to a minimum to ensure a very homogeneous crop flow to your combine.
Sunstorm Pans are available in sizes 600, 740, 940, 1200 mt and from this year also in the 1400 mt version. It is also available for smaller combine harvesters with a working width of four and five metres.
Watch Nardi Sunstorm in action at Nardi Youtube channel or to know more visit their website here!