The UK-based manufacturer Alvan Blanch has received the Queen's Award for Enterprise 2019 in the 'International Trade – Outstanding Achievement' category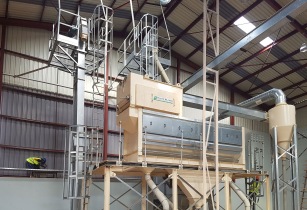 Grain cleaning, drying and storage system in Uganda. (Image source: Alvan Blanch)
In the agricultural sector, Alvan Blanch is the only company to have received an award within the International Trade category.
Alvan Blanch is a manufacturer of post-harvest processing machinery and industrial drying systems. With regular markets in every inhabited continent, the company has focused on using its international trade to drive growth, while maintaining its established the UK customer base.
Understanding the challenges and changes of fast-moving markets has been crucial for Alvan Blanch to achieve its international success. In addition to a well-known grain drier business, Alvan Blanch boasts dedicated engineering and design teams who are constantly working on product enhancement and R&D.
The last five years have seen a large expansion in global operations for the Wiltshire based manufacturer. The company has opened sales offices and service centres in several markets in Asia, Australia, Africa and Europe, benefitting customer and dealer relationships.
Andrew Blanch, managing director at Alvan Blanch, said, "We have doubled our workforce to 120 and we have recently invested very heavily in manufacturing automation and in expanding our factory."
"We have a world-class manufacturing facility that enables us to compete in highly demanding global markets with our world-beating products. But all of that has only been made possible by our 4-fold export sales growth over the 14 years between these awards," Blanch added.