Marel Poultry has developed Q-Wing, chicken wing part grading and distribution solution, to intensify the automation level in a poultry processing plant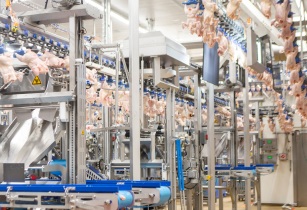 The IRIS camera system is seen to visually assess the quality of the wings in the line. (Image credit: Marel Poultry)
Given the globally growing shortage of skilled labour, the solution is in response to demand from the market for higher wing yields and less manual labour.
To provide huge demand of chicken wing parts across the global market, processors need to have a focused wing cutting, batching and distribution process that produces both higher volumes and more consistent quality, with the least cost and hassle, explained the company.
Integrated into the ACM-NT cut-up system, the Q-Wing comprises a selection of wing cutting modules, an IRIS visual grading system, logistics and Innova controlling software.
As the poultry processors see wing part sorting as a very labour-intensive process, Q-Wing aims to automate many manual operations and increasing wing yields.
The IRIS camera system is seen to visually assess the quality of the wings in the line. "If, for example, only the left first joint is damaged, the left second joint can still be processed as an A grade item and so can all right wing parts. This will dramatically help secure consistent quality and raise wing profits," according to the company.
The logistic system comprises multiple conveyor belts, leading to separate packing stations for the different A grade and B grade drummettes, wingettes and whole wings. In addition, the Q-Wing is set to improve the assessment process, aiming to enable processors to assign maximum value to wing products.