Hydor, a ventilation and control solutions provider to the agricultural industry, recently celebrated its landmark 60th anniversary milestone in a united mission to enhance the welfare of animals, crops and people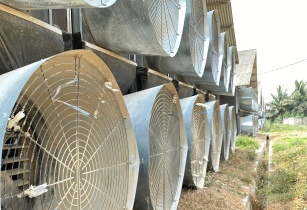 Hydor celebrates its 60th anniversary in a united mission to enhance the welfare of animals, crops, and people. (Image source: Adobe Stock)
Hydor offers a wide variety of products and systems for agricultural buildings, including its tube ventilation system to provide air circulation in cattle buildings and the Agri-Max round chimney exhaust fan range for temperature regulation and airflow management in poultry sheds.
The company also assists farmers with evaporative cooling technology systems to tackle extreme heat stress situations, among others. Moreover, Hydor's acquisition in 2003 by global organisation Elta Group, has enabled the company to expand its operations and providing access to a wide range of products, engineering expertise, and research and development facilities. In 2021, Hydor also became part of EG Agri, a collective alliance of six agricultural brands, all owned by Elta Group.
In recent years, Hydor has not only expanded into new markets including industrial and commercial building services and horticulture, but also obtained quality accrediations such as BSI, highlighting the business's dedication to process and manufacturing quality.
"We know farmers have been turning to Hydor for many years to solve very particular challenges, and it is our knowledge and experience that has enabled us to come this far," said general manager at EG Agri, Andrew Mann. "The company's ethos is simple. We are committed to delivering quality engineered products, with a focus on meeting the demands of advanced agricultural practices and incorporating the latest building techniques. We still value doing things the traditional way, and so farmers can pick up the phone to ask us about farm building projects, how they can improve the welfare of their animals through better air quality and living conditions, which in turn helps them with their business."
For more information, visit: www.hydor.co.uk