Farm managers need to be in constant contact with arable and livestock teams, and workers in packing houses, grain stores and livestock sheds need to coordinate tasks efficiently and keep track of progress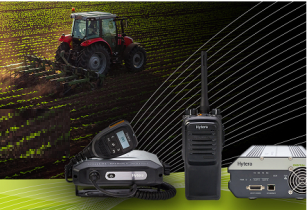 Hytera DMR radios provide a high degree of robustness and weatherproofing against dust and moisture ingress. (Image source: Hytera)
To ensure this, the industry needs a reliable, cost-effective and powerful communications solution capable of delivering consistent service across the entire estate.
Arable crops need to be harvested on dry days, but finding a window in the weather may be tricky. When there is one, farm workers and harvesting machines need to be organised and coordinated for long days in the field. Good radio communications are crucial to maximising efficiency and productivity. The same applies to the handling of movements of livestock, the delivery of feed and the administration of veterinary care.
Mobile phone networks are problematic because coverage can be patchy in rural areas and mobile phones are rarely robust enough to cope with the outdoor environment. On the other hand, a professional communication solution such as Hytera Digital Mobile Radio (DMR) provides a highly reliable, robust and powerful instant push-to-talk (PTT) solution. Enable groups of people to talk to each other at the same time to coordinate and synchronise farming activities.
For example, a rugged outdoor RD965 DMR repeater, with an antenna mounted on a high building like a grain silo, will cover a large farm. And by using in-vehicle mobile radios and hand-held DMR radios, everyone on the farm can be included in the discussion.
Hytera DMR radios provide a high degree of robustness and weatherproofing against dust and moisture ingress. They feature crystal clear audio noise-cancelling technology even in the noisiest farm environments. When required, radios can provide integrated GPS for location services and support Man Down and Lone Worker alarms to enhance farm workers' safety.
The radios have a long battery life to provide at least 16 hours of talk-time, so farm workers can stay in touch when working long hours in the field. The DMR solution gives the farm complete control of its communications and without the need for ongoing monthly contracts.