Pöttinger, the specialist for tillage and seed drill technology, has introduced its new range of AEROSEM pneumatic seed drills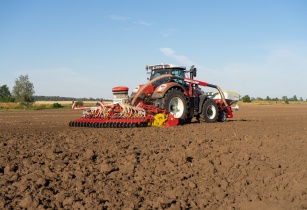 The new AEROSEM FDD offers convenience as well as pure precision and flexible applications. (Image source: Pöttinger)
These seed drills with working widths of 4.0 and 5.0 m will be available as folding versions with front hopper starting in November 2020.
The front hopper with maximum flexibility in the field
The newly developed front hopper opens up two completely new applications. The front hopper is fitted with an airtight cover to ensure the seed is transported back to the coulter rail at the required metering flow rate. The hopper is available with a volume of 1,700 litres, and as a high capacity version with 2,300 litres. During development, special emphasis was placed on handling and accessibility while filling and calibrating.
A service platform provides better visibility into the hopper during filling. When selecting the front hopper, operators can choose between a standard single metering unit or the newly developed dual metering unit.
This new metering system is called Single Shoot and lets operators apply not only seed but also fertiliser into the seed slot in one pass. Maximum flexibility is the result. Future requirements to meet new regulations regarding fertilisers, seed dressing and biodiversity can be met in full with the new AEROSEM front hopper seed drill.
The coulter rail on the AEROSEM FDD is mounted on the power harrow using a locking system and only takes a few minutes to fit or remove. This system also allows for an optional hydraulic lifting system for the coulter rail to increase ground clearance.
The compact, folding coulter rail with a short headstock puts the centre of gravity impressively close to the tractor. The distributor head is mounted on the coulter rail and features a patented system that ensures it is always kept in vertical position. The patented linkage system ensures the distributor head is vertical to deliver perfect lateral distribution.
The proven DUALDISC double disc coulters are offset at 30 cm and ensure precision seed placement. Convenient operation, especially regarding the coulter rail, makes the whole system very user-friendly. Coulter pressure can be adjusted mechanically (hydraulic adjustment is available as an option) from a central point, and seed placement depth is set conveniently from the side of the machine.
Seed distribution is controlled using the distributor head, which can be provided with individually controllable outlets (IDS) as an option. Using the fully-equipped version, the driver can easily adjust the tramline widths and tyre widths directly at the control terminal to set up a perfect tramline system.