On 21 February, a new cooperation framework was signed between the International Crops Research Institute for the Semi-Arid Tropics (ICRISAT) and Eagle Genomics at the International Conference on Innovations to Transform Drylands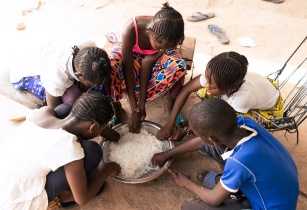 At the conclusion of the signing, ICRISAT and Eagle Genomics applauded the Innovations for the Drylands Conference. (Image source: Adobe Stock)
The MOU will see leading organisations – Eagle Genomics, the pioneering UK-based TechBio platform business applying network science to biology and ICRISAT, an India-headquartered international non-profit organisation that undertakes scientific research for development – collaborate at the intersection of life science and data science to help solve urgent global challenges in food security, nutrition, and agriculture.
There is growing awareness that malnutrition cannot be solved without a robust understanding of the role of the microbiome, both in enhancing resilience to climate change and in enhancing nutrient absorption. This includes ensuring access to safe and healthy food and targeting novel microbial-based solutions to improve nutrition, enhance wellness and reduce disease.
The e[datascientist] platform powered by network science1 and multilayer hypergraphs2, applies machine learning and artificial intelligence to provide a data-driven insight journey into solving complex problems and delivering greater impact in climate resilience, improving plant nutrient density, and increasing data-driven wellness and human health outcomes.
The platform integrates active learning at every step of the microbiome innovation journey, from characterising and describing microbiomes, to a better understanding of complex causal mechanisms to elucidating host-microbiome interactions.
Eagle Genomics is reinventing life sciences research and development by bridging the 'translation gap,' enabling scientific knowledge from a range of disparate sources and data sets to be integrated and analysed through the e[datascientist] platform to create novel hypotheses and deliver robust, scientifically underpinned practical solutions.
At the conclusion of the signing, ICRISAT and Eagle Genomics applauded the Innovations for the Drylands Conference. They said that the MOU would help underpin next-generation innovation to safeguard the lives and livelihoods of the more than two billion people living in the drylands of Asia, Africa and beyond.