John Deere is working with the Federal Ministry of Agriculture and Rural Development (FMARD) of Nigeria and the Nigerian Agricultural Mechanisation & Equipment Leasing Company (NAMEL) to improve the productivity and yields of small farmers through affordable and local access to farming mechanisation services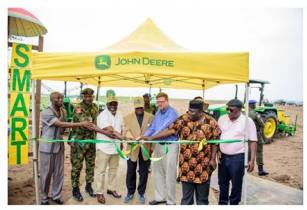 Smallholder farmers in Nigeria will be benefitted from this partnership. (Image source: John Deere)
Under the public-private partnership (PPP) model, John Deere will sell its 10,000 tractors and will also result in placement of a local assembly facility in Nigeria to provide new job opportunities in the market.
In this collaboration, John Deere and its local dealer Tata Africa Nigeria Services Limited will provide training, local parts and service support, technical advice, financing solutions through John Deere Financial and John Deere equipment in support of the FMARD's Agriculture Inputs and Mechanisation Scheme (AIMS).
Through AIMS, the FMARD is focused on developing mechanisation of the agricultural sector with the goal of improving food security and rural employment.
The partnership will enable Nigerian farmers to contract services from approved agricultural equipment hiring enterprises located across the country. There are currently more than 80 approved agricultural equipment hiring enterprises across Nigeria, ranging from large well-established enterprises such as the Tractor Owners and Operators Association of Nigeria and the Tractor Owners Hiring Facilities Association of Nigeria to small start-up enterprises such as Alluvial Agriculture Nigeria Limited. With John Deere and NAMEL's support, this growing network of service providers will be able to quickly accelerate access to mechanisation and improved practices for tens of thousands of small farmers across the country.
Ogirinye Innocent, head of projects coordination for NAMEL, commented on Nigeria's goals of mechanising more than nine million ha of land, creating 37 mmt of additional food, and adding more than two million direct and indirect jobs through agriculture.
Cobus du Toit, divisional sales manager for John Deere in Western Africa, said, "Nigeria is a key focus for John Deere in Africa as agriculture will play an increasingly important role in the Nigerian economy. We see this PPP as a sustainable model for how yields and food security can be improved across the continent as well."
Telematic solutions from the Nigerian agriculture technology company Hello Tractor will be supplied by John Deere with the tractors and will allow owners of the tractors to maintain connectivity and provide a connection so farmers can schedule tractors for services.
"Hello Tractor's innovative use of IoT (the Internet of Things) simplifies complex data to ensure transparency, profitability, and accountability across the ecosystem of farmers, tractor owners, tractor dealers, original equipment manufacturers, banks, and governments," said Jehiel Oliver, founder and CEO of Hello Tractor.