VST, power tillers and tractors manufacturer, has published a case study, aiming to study the field performance of VST products in the paddy fields of Nigeria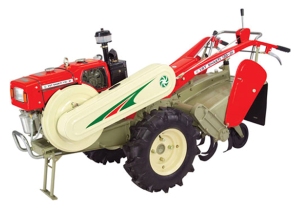 VST Shakti 130 DI - power tiller. (Image source: VST)
It was conducted by the VST Team by visiting Katsina in Nigeria and recording the developments over a period of time. They studied and analysed the performance in different fields by performing different functions.
Power tiller demos conducted at Kafur local government in the presence of special adviser on agriculture to the government of Katsina State, MD Katra Agriculture Mechanisation, Katsina State.
After the demo, meeting with government, media and farmers organised to explain the uses, benefits and maintenance of the power tiller. Farmers, government staffs and executives appreciated the VST products after seeing the demo as well as operating the tiller on their own.
The power tillers were reintroduced in Nigeria in the year 2001, by importing from abroad as part of their green revolution programme. VST Shakti power tiller field performance on paddy fields in Nigeria was demonstrated to local farmers. The field performance was evaluated in different paddy fields in Nigeria.
Target market identification
The VST power tiller is designed for tilling and performing other farming operations on small farms. The tiller operator walks behind the tiller when it is in action to steer the tiller.
Market needs
Nigeria requires modern farming equipment for various agricultural activities like soil preparation, sowing, weeding, spraying, harvesting and processing. It is predicted that the agro-ecological conditions of Nigeria is similar to Thailand, a massive rice producing country. Nigeria also expected to produce lots of rice in the near future by adapting to modern farming methods and conserving water resources. Increased farming in Nigeria leads to increased demand for modern farming equipment.
Major issues/goals
Many factors affect the use of tractors in Nigeria such as economic conditions, agricultural conditions, farming equipment requirements and availability, technical knowledge of farmers etc. Hence, power tillers are better option for the farmers as they are cheaper than tractors and easy maintenance and operation.
Recommendations
Power tillers are suitable for Nigeria's agricultural conditions and farming requirements.
Justification/predicted outcome
The regular large and medium tractor usage on small farms in Nigeria is not viable and cost-effective as their initial investment is more. The VST power tillers have the advantage in size, light-weight and good manoeuvrability. They are suitable for the level of technical knowledge available in rural areas of Nigeria. The system of VST tiller is simple and this makes the operation, maintenance and repair easy.
Conclusion
This case study highlights the performance of VST Shakti power tillers in different fields of Nigeria. Moreover, the Nigerian farmers should be well trained to use and maintain the VST farm equipment to achieve the maximum potential of the power tiller in the fields. The role of modern equipment in the development of agriculture is well established. The increased use of modern equipment for cultivation creates demand for related equipment like harvester and generates employment opportunities in the agricultural industry.
For more information, please visit www.vsttillers.com