John Deere will introduce the advanced grain harvesting technology from front to back in its combines and headers for model year 2018 production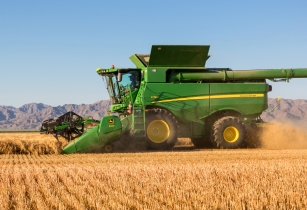 The John Deere S780 Combine is one of four new S700 Combines introduced for model year 2018 production. (Photo: John Deere )
This includes four new S700 Combine models (S760, S770, S780 and S790) that offer producers significant improvements in smart technology, improved operator comfort and better data, along with the 700C/FC Series Corn Heads and 700D Drapers for more efficient grain harvesting, the company stated.
Building on the proven field performance of the S600 Combines introduced in 2012, the new S700 Combines incorporate the latest in automated harvesting technology
Many of these changes are aimed at making it easier on the operator by allowing the combine to make needed adjustments automatically, on the go.
"These new S700 Combines are a culmination of enhancements to our previous model that optimise and automate harvesting operations for coarse and small grains," said Kevin Ripple, marketing manager for harvest at John Deere. "We've enhanced the overall intelligence of these combines by automating more adjustments and calibration tasks, and improved the lifetime durability and productivity of front-end equipment to create a high performance harvesting solution unlike any other on the market today."
To make it easier for operators to maximise the performance of their new S700 Combine, John Deere introduces the Combine Advisor package. Combine Advisor incorporates seven technologies to help operators set, optimise and automate the combine for the most effective harvesting performance based on their crop and field conditions.
Auto Maintain is a function within Combine Advisor that is supported with ActiveVision cameras. "These cameras give the operator a view into the tailings and clean grain elevators via the display, and analyse the information to maintain optimal threshing performance based on operator set targets," Ripple explained.
Another addition to the S700 Combines is Active Yield technology that automatically calibrates the mass flow sensor. This saves time by eliminating the need for manual calibrations and ensures the best data is collected.