JOSKIN has recently announced the launch of an online configuration tool for its range, in a move to attain digital development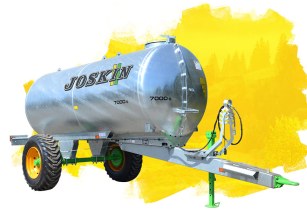 The configurator is accessible on a smartphone, tablet or computer. (Image source: JOSKIN)
The company deals in agricultural automobiles and equipment. With the launch of this tool, the group aims to use digital solutions to stay close to farmers. This configurator completes the company's range of digital tools – new website, digital development of the showroom, virtual tour of the factories, etc – and is accessible on a smartphone, tablet or computer.
Since the beginning of 2021, farmers have been able to design their own machine with just a few clicks. The first machines that could be configured were the livestock trailers and aerators. Since then, nine new configurators have been created.
In the livestock category, the rotary pasture toppers, choppers, water bowsers and slurry mixers now have their own configuration tool. In the transport range, the configurator of the silage trailers, multipurpose trailers, hook-lift systems, construction tipping trailers, bale trailers and low loaders.
The slurry tanker, the spreading implements, monocoque tipping trailers and muck spreaders will be added in October.