Johnson Soil Augers are supplying portable, affordable and efficient tools for soil surveying and sampling, helping farmers with effective and economic alternatives to the digging of profile pits as part of any soil mapping excercise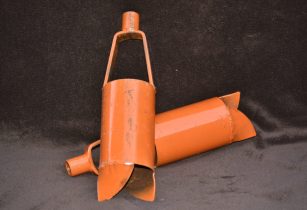 The open-sided bucket auger is ideal for moist compact conditions. (Image source: Johnson Soil Augers)
Johnson soil augers, which has been supplying South Africa with hand operated tools for 49 years, has now been able to achieve a small range of international standard augers and sampling tools. These augers have been developed to cope with and perform in the tough soil conditions experienced in the somewhat dry and semi-arid regions of South Africa.
The bucket auger is ideal for dry and compact conditions. Johnson Soil Dutch augers are ideal for moist, wet and clay soils and are the same tried and tested design that was presumably developed in Holland, where these soil conditions prevail. The auger heads screw onto a variety of different length T handles and extension rods to accommodate different sampling depths.
Their Beater rapid Sampler was developed by the South African Sugar Association for field fertility sampling. This handlebar-framed unit has a tapered bolt-on soil probe at the bottom with a sample bag attached to it. Pushed into the soil, the probe extracts a soil core which falls into the sample bag when turned up-side-down. The unit is then ready for the next sample. This enables quick and accurate multiple sampling.
Their soil probe has been helping farmers with turf and irrigation managers, enabling quick, small core topsoil sampling.
Johnson Soil Augers are manufactured in South Africa. They are highly competitively priced, selling for significant discounts to other international suppliers.