EIMA International – the world exhibition of agricultural machinery, that will be held in Bologna from 19-23 October – will turn the spotlight on telescopic handlers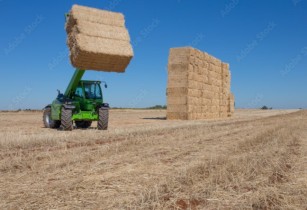 Telescopic handlers have enjoyed growing popularity among companies and farmers. (Image source: Adobe Stock)
In the recent years, telescopic handlers have recorded considerable growth, and in the first eight months of 2021, sales are up by 87%. EIMA International is an opportunity to see first-hand the construction solutions offered by the leading manufacturers in the industry.
Telescopic handlers, designed and manufactured by specialist companies, including Dieci, Faresin, Giant, Kramer, Manitou, Merlo and New Holland, have enjoyed growing popularity among companies and farmers, who increasingly appreciate their versatility.
As shown by the data processed by FederUnacoma, on the basis of the records provided by the Ministry of Transport, in the last three years, the demand for agricultural lifts has always been very lively. Between January and August this year, no less than 1,046 vehicles were registered (+87%) – a number higher than in previous years at the end of December – and they are set to consolidate this excellent trend in the coming months.
The success of this particular type of machine is mainly due to its versatility, as it is a multifunctional mechanical vehicle. With their wide range of accessories, these machines can be used for applications ranging from handling to lifting materials, from towing trailers, right up to working with towed equipment (for haymaking, for example).