TOMRA Fresh Food is all set to launch a cluster separating machine for cherries, which eliminates product damage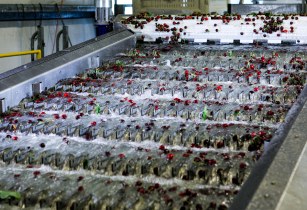 The cascade singulator will ensure reduced operational hours and maintenance costs. (Image source: TOMRA Fresh Food)
The cascade singulator will be shown publicly for the first time at the international trade exhibition Fruit Attraction in Spain.
Benedetta Ricci Iamino, global category director of cherries at TOMRA Fresh Food said, "The development of the cascade singulator's unique design started with extensive research into issues around pitting and bruising damage, caused by traditional methods, and to provide a technology that could be easier to operate while also reducing the on-going costs. By consulting with cherry industry experts around the world, we sought a solution that ensured gentle handling of each cherry. This new technology will not only improve the quality of the separation while guaranteeing increased reliability and consistency in the fruit quality, but will also ensure reduced operational hours and maintenance costs."
He added that customers will not need to hire highly skilled people to continuously adjust the singulator during the cherry season based on the different varieties. "The operational hours needed to replace blades and bearings during the maintenance procedures will also be reduced," Iamino said.
Ken Polehn, co-owner of Polehn Farms with his wife Liz, said, "We hoped TOMRA Fresh Food's new machine might reduce maintenance requirements on the line, make the working environment safer, and reduce the mechanical damage to fruit. The cascade singulator has certainly met all of those objectives. The reduction in mechanical damage to the fruit is significant, better than we could have expected. While the cleaning time on a cluster cutter is seven man-hours per day, with the cascade singulator, it's just one-and-a-half."