LEMKEN has developed iQblue connect, a highly versatile retrofitting kit which converts existing technology into smart machines for modern farming processes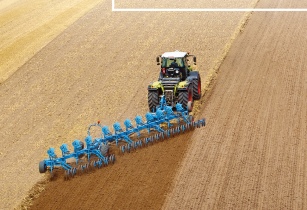 Farmers need a single iQblue connect module, as this mobile unit can be transferred quickly and easily from one implement to another. (Image source: LEMKEN)
So far, the possibility of utilising data from existing mechanical implements and feeding them into farm management systems has remained wishful thinking for most farmers.
When combined with Tractor Implement Management (TIM), the device allows numerous functions of purely mechanical implements to be automated and at the same time integrated into digital documentation.
According to the company, the module is connected to the tractor via its ISOBUS interface. It also features GPS and a mobile data connection for communication, for example with the farm management system. Data is transmitted via the agrirouter, a cross-manufacturer platform for exchanging data between machines, farmers, contractors and software applications. Depending on the intended use, a sensor kit is permanently installed on the implement to record the required information and pass it on to the iQblue connect module. No further equipment is needed on the implement, as the tractor is used for controlling implement functions.
With the first available version of the application, a plough is fitted with a sensor to determine the current working width. iQblue connect then calculates the target working width from the GPS position and transmits this information to the tractor to initiate the relevant adjustment of the working width ram. The working width is then adjusted via the tractor's hydraulic system. With semi-mounted cultivators, the working depth can be detected by a sensor. iQblue connect receives the width section-specific target working depth from maps provided by the agrirouter, compares the actual and target data and subsequently sends a command to the tractor to adjust the working depth. Additional applications for a range of different implements are being planned.
Farmers need a single iQblue connect module, as this mobile unit can be transferred quickly and easily from one implement to another, without requiring special tools. The system automatically adapts to the implement it is connected to at any given time. LEMKEN therefore offers a straightforward, inexpensive electronic tool which allows purely mechanical implements to be largely automated. The iQblue connect system enables customers to "grow" with it, as new functions can be installed later at any time.