The Malawian Ministry of Agriculture and Food Security has disclosed that it will soon start renting out tractors kept at the Plant and Vehicle Hire Organisation (PVHO) in Lilongwe to farmers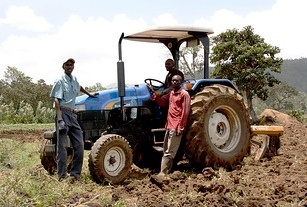 The Malawian government said it will rent tractors out to farmers. (Image source: DFID - UK Department for International Development/Flickr)
Principal secretary of the Ministry, Geoffrey Luhanga, told the Malawi News Agency (Mana) that his office has meanwhile started transferring tractors to some districts of the country.
"Yes, it is true that we have started moving the tractors to some of the districts and what will happen is that those farmers wanting to use them will have to liaise with the district council," explained Luhanga.
"Farmers in recognised groups have an opportunity to also hire the tractors," he added.
Luhanga said commercialising agriculture in Malawi has been a challenge as many farmers lack the necessary assistance.
The tractors will act as a solution to some of the problems that Malawian farmers have encountered in their quest to improve their farming career, he added.
The rental tractors were initially bought to fulfil the purpose of the Green Belt Initiative championed by the late President Bingu wa Muntharika, Mana said.