Consumer demand for convenience food products continues to rise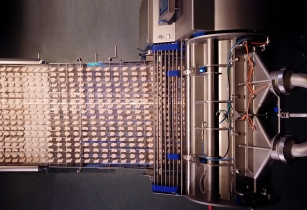 RevoPortioner 1000 ensures higher throughput and higher quality. (Image source: Marel)
At the same time, quality and cost remain key considerations. Marel's new RevoPortioner 1000 uses innovative low-pressure forming technology and an enhanced 1000mm processing width to help meet these challenges head on.
Continuously forming – continuously performing
The RevoPortioner 1000 is the newest advancement in Marel's successful line of low-pressure forming solutions. It continues to build on the proven technology of previous generations of the RevoPortioner and now combines innovative new features to give convenience food processors substantial benefits.
Increased volume and speed
A wider 1000 mm (40") forming width and higher speed combine to increase output significantly
Superior product quality
Innovative technology ensures products are always consistent in shape and weight across the entire belt width. Improved air release also optimises ejection from the forming drum ensuring texture and integrity are unmatched.
Lower footprint
The simplicity of the RevoPortioner 1000 reduces footprint when compared to a two-machine set up producing similar volumes, saving a considerable amount of valuable factory floor space.
More sustainable, cost-effective processing
The advanced technology and robust design behind the RevoPortioner 1000 ensure an incredibly low level of leakage—less than 0.3%. The high levels of consistency in product shape and weight reduce rework by approximately 50%. In addition, the system uses significantly fewer cooling agents and 40% less compressed air compared to previous solutions with comparable capacities. This significant reduction in waste, energy and resource consumption, contributes to a much more sustainable production process.