Maschio Gaspardo Group has signed an agreement that will see the Italian agricultural equipment company acquire hay making equipment manufacturer Feraboli Group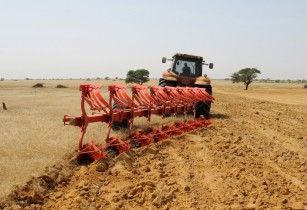 A micro semi-mounted plough from Maschio Gaspardo working a field in Senegal.
The deal will mark the completion of Maschio Gaspardo's product range, with the addition of hay making equipment marking the final phase of agricultural mechanisation within its portfolio.
The Feraboli Group from Cremona, Italy, was established in 1880 and posted a turnover of approximately US$41.4mn in 2012, of which 60 per cent was generated from its domestic market. The company has three production plants in Italy and 200 employees on its books.
Maschio Gaspardo has continued its investment in Italy, where it has 13 production plants, along with three plants located abroad. The deal to purchase Feraboli has marked its fourth acquisition in the last two years.
"Despite the unfavourable economic environment, the Maschio Gaspardo Group continues to invest in Italy, where we are at the forefront for our labour quality and creative capacity," said Egidio Maschio, president of Maschio Gaspardo. "With the acquisition of Feraboli we consolidate our leadership in the production of agricultural equipment both in Italy and in Europe.
"This operation represents a step forward in the Group development process with the target of reaching a turnover of EUR350mn (US$483mn) in 2014."
Francesco Feraboli, president of Feraboli, remarked, "With the Maschio Gaspardo Group we have found the perfect industrial partner to guarantee our process of growth and strengthening in the export markets."
Over the past few years Maschio Gaspardo has demonstrated a commitment to improving its competitiveness and presence in African, and has expanded its operations in a number of North African markets, including Algeria, Tunisia, Morocco and Libya, where it has long-established trade relations.
In Africa, Maschio Gaspardo exports products under the brands Maschio, Gaspardo, Unigreen and Feraboli, and has been targeting growth in markets in sub-Saharan Africa, including South Africa, Kenya, Senegal, Tanzania and Réunion, as well as Angola, Tanzania and Sudan where the Group has widened its reach by securing relationships with local dealers and contractors.