New Holland showcased its new range of Twin Rotor CR combines at the New Holland South Africa stand at Nampo show to be held between 13-16 May 2014 in Bothaville, South Africa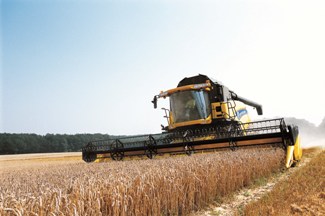 New Holland will launch its range of Twin Rotor™ CR combines in a bid to improve the harvesting productivity of the world's professional farmers and contractors. (Image source: New Holland)
New Holland's range of Twin Rotor™ CR combines have been further improved to make improvements in already benchmark harvesting performance, the company revealed.
"The latest CR upgrades are testament to our unceasing quest to improve the harvesting productivity of the world's professional farmers and contractors," stated Hedley Cooper, head of Combine Harvester Product Management.
"The all-new and proven Dynamic Feed Roll™, with integrated dynamic stone protection has improved capacity by up to 15 per cent. The range continues to offer intelligent innovations that improves harvesting productivity and the operator experience such as the SmartTrax™ system and the IntelliView™ IV colour touch screen monitor," added Cooper.
According to New Holland, the Dynamic Feed Roll situated in front of the rotors, feeds the rotors for smoother, streamlined feeding and automatically directs stones into a dedicated trap.
The additional roll enhances feeder performance by up to 15 per cent as throughput is greater, New Holland stated.