AGCO has signed an agreement with Standard Bank South Africa to offer retail finance for customers purchasing AV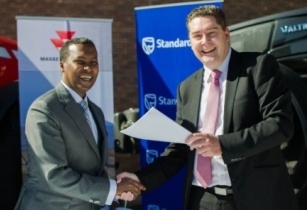 (Image source: AGCO)
With support from Standard Bank South Africa, the new partnership will offer AGCO customers competitive asset finance products including finance leases, rental agreements, installment sale agreements and directly related financial services products such as insurance, AGCO said.
"The alliance between AGCO and Standard Bank is a major benefit for buyers of AGCO's world class agricultural equipment," stated Nuradin Osman, AGCO managing director for Africa.
"It is designed to provide our customers with a complete solution which also includes finance packages tailor made to the agricultural sector. In addition, clients have the peace of mind knowing that their purchase is backed by world class product support nationwide," Osman said.
AGCO will also provide funding to the development of Future Farms and Training Centres across Africa that will give support to local farmers and dealers using new farming technology.
South Africa is the first country to benefit from this partnership which is soon to be extended throughout Africa, according to AGCO.