AGCO brand Massey Ferguson has announced the launch of a new tractor for the Kenyan market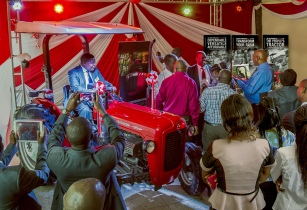 Massey says the 36hp machine will bring farm mechanisation to the masses. (Image source: AGCO)
The MF 35, with its 36 horse power (hp) engine, 6-forward/2-reverse speed mechanical gearbox and hard-wearing robust construction, will bring farm mechanisation within the reach of many agricultural enterprises for the first time, the company said.
"Straightforward, dependable and affordable, the 36 hp MF 35 is truly the 'people's tractor'," said Richard Markwell, vice president and managing director of Massey Ferguson for Europe/Africa/Middle East. "This well-proven model offers exactly the right specification and technical features for Kenya's emerging farm enterprises."
According to the farming equipment manufacturer, the new machine's flexibility and compactness make it ideally suited to the Kenyan market.
It is able to perform a range of duties across a variety of farm sectors, and its size means it is adept at manoeuvring on smaller plots of land, while its rear three-point hitch has maximum lift capacity of 1,100 kg, enabling use of a wide variety of implements.
"It brings mechanisation to a new generation of farmers, farm workers and entrepreneurs," added Markwell. "It is the ideal, multi-purpose machine particularly for first-time tractor owners and operators who are ambitious to develop their businesses and transform their families' livelihoods."