Zimbabwe President Emmerson Mnangagwa has visited Case IH distributor AGRICON Equipment Zimbabwe's headquarters in Harare, according to a press release issued by the company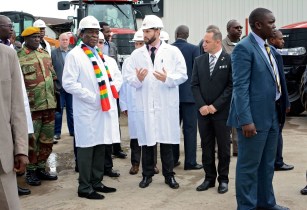 Mnangagwa visits AGRICON Equipment Zimbabwe's headquarters in Harare. (Image source: Case IH)
Chief executive officer Faizul Materia and chief operating officer Jason Smith gave Mnangagwa a tour of the company's facility.
The duo presented the full range of innovative solutions and services Agricon provides farmers with the backing of Case IH- a global leader in agricultural equipment.
Faizul Materia and Jason Smith explained to President Mnangagwa the key features of some of the Case IH machines that are most popular in Zimbabwe.
"At Agricon we take pride in supporting this sector with affordable machinery and, most importantly, efficient and professional backup and service. This is key to making agriculture in Zimbabwe more productive. We are proud to be a part of rebuilding the country," Smith said.
The president had a good look at Case IH tractors ranging from the best-selling utility JXT and versatile Farmall A, to the multi-purpose Puma; Axial-Flow140 series combines featuring Case IH's advanced single rotor technology and designed for mid-sized arable operations; and Nutri-tillers used for managing crop residue, enhance soil condition and improve fertiliser placement for maximum nutrient efficiency.
The president said he was impressed with the agricultural technology and innovation solutions offered by Agricon at end of his visit.