While farmers have tractors and big machinery to aid them in their work, the industry remains one of the toughest and most strenuous when it comes to manual labour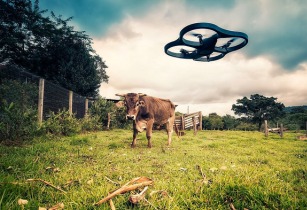 Drones are set to be immensely beneficial to the farming industry in years to come. (Image source: Lima Pix/Flickr)
Traditionally, the planting, maintaining and harvesting of crops takes up time, energy, money, labour and resources. It doesn't come cheap, and it doesn't come easy. But, modern agriculture has started to see big changes.
Farming operations are becoming increasingly sophisticated as they evolve with the developments of technology. Precision agriculture, using advanced technology and big data to improve crop production and practices, is seeing more efficient and educated farming procedures brought to life. For example, AI is set to reduce this high level of repetitive and physical work by developing different components to help make farms smarter and more efficient.
In a new initiative called FarmView , research has been carried out to create a fleet of mobile field robots that will be able to help with plant breeding and crop management by combining sensors, robotics and AI. These bots will have the ability to take a visual survey of a vineyard at the start of the season, then as the season progresses, be able to use machine learning to predict the expected fruit yield. These machines will not only reduce manual labour in this industry but should also see farms able to utilise, manage and organise their crop intake.
Popularly used as aerial observational technology, drones are set to be immensely beneficial to the farming industry in years to come. Many farmers have acres upon acres of land - all of which can be hard to manage and watch over. Drones will become extremely helpful in aiding farmers with land monitoring, as they will be able to survey crops and also carry out long-distance crop spraying. These futuristic gadgets are becoming more accessible and will likely become invaluable to any farmers harvesting solutions.
Farms will not only be monitored from the sky but from machines working directly on the ground, too. Cutting-edge machine vision tools that help farmers to scan their fields, assess crops and get rid of weeds, will become widespread. These hi-tech cameras will be fixed onto crop sprayers and will use inbuilt deep learning technology to identify plants in the field. If these cameras see a weed, it'll hit it with pesticide, but if it sees a crop, it'll drop some fertiliser.
(Author: RS Components is the leading global distributor of electronic, electrical & industrial components for engineers, and has been supporting and inspiring generations of engineers since 1937)