Massey Ferguson has strengthened its position in the sub-50hp compact tractor sector with the introduction of the MF 1532 H, a completely new hydrostatic transmission model powered by a 32hp three-cylinder, water-cooled Diesel engine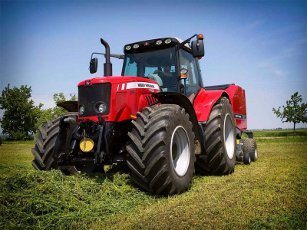 Massey Ferguson has strengthened its position in the sub-50hp compact tractor sector
The new MF 1532 H represents an important addition to Massey Ferguson's well-established 1500 Series tractor range, complementing the existing MF 1532 MA tractor to give agricultural, horticultural and grounds-care customers the choice of hydrostatic or mechanical transmission models at a very important power point within the sub-50hp market.
Combining neat, compact dimensions, a high power-to-weight ratio and excellent manoeuvrability, the MF 1532 H is equally at home working in confined spaces around buildings, yards and trees as it is on cultivated soil and sports turf where minimal marking and low compaction are essential requirements. A foldable ROPS frame ensures that the tractor is able to access low buildings and work comfortably beneath trees.
Equipped with selectable four-wheel drive as standard, the new MF 1532 H replaces the MF 1531 H within Massey Ferguson's 1500 Series, providing customers with a higher specification tractor that incorporates a number of important new and upgraded features.
These include an uprated hydraulic system with a maximum output of 45.7 litres/min (MF 1531 H : 39.4 litres/min), a strengthened front axle, a 35 litre capacity fuel tank (MF 1531 H : 30 litres), a larger area iso-mounted operator platform and a new heavy-duty hydrostatic transmission.
The tractor's smooth and economical power delivery, boosted hydraulic flow and three-range hydrostatic transmission with auto-throttle and cruise control have been designed to provide owners with the productivity, efficiency and versatility necessary to meet the demands of the agricultural, horticultural and grounds-care sectors.
- Economical 32hp Diesel engine with 35 litre capacity fuel tank
- New heavy-duty three-range hydrostatic transmission
- Boosted hydraulic pump producing up to 45.7 litres/min
- Driven front axle with greater load-carrying capacity
- New larger 'floating floor' operator platform
- Rear 540/1,000 rpm independent PTO
- Mid 2,000 rpm PTO
- Selectable four-wheel drive
Smooth, strong transmission
The 32hp MF 1532 H is equipped with a completely new heavy-duty three-range hydrostatic transmission (HST) housed within a compact three-section casing. The transmission provides infinitely-variable speeds up to a maximum of 32km/hr (20mph) and is controlled by a new two-pedal layout that requires greatly reduced foot effort while also providing more space on the operating platform floor.
Boosted hydrostatic pump output generates fast, powerful transmission response, ideal for field, turf or yard operations requiring constant changes of speed or direction. A new drum brake-operated cruise control system enables forward speed to be 'locked' by means of a pedal, enhancing comfort and control to allow the operator to concentrate better on work quality and steering.
Two separate hydraulic pumps, one for the power steering, the other for the tractor's main services, provide a total delivery of 45.7 litres/min. Having two independent circuits means there is always ample flow available for implements and attachments without affecting the steering. Two rear auxiliary valves are fitted as standard.
High specification rear linkage and PTO
The MF 1532 H is equipped with Category 1 rear three-point linkage providing a maximum lift capacity of 1,100kg, capable of handling a wide range of tractor-matched attachments and implements. Also standard are rear (540/1,000rpm) and mid (2,000rpm) power take-offs (PTO) featuring independent electro-hydraulic engagement with a soft-start facility.
Located conveniently on the dash panel, the PTO engagement switch has two positions: 'Off' provides normal PTO engagement while "On" gives a 'soft' start, producing steady, progressive engagement of PTO drive, recommended for high inertia implements or when operating in difficult or heavy load situations.
A 1.52m (60in) triple blade side-discharge mid mower deck is available as an extra-cost option from appointed Massey Ferguson dealers.
Stronger chassis with uprated front axle
A new, stronger chassis and higher-capacity front axle have been used on the new MF 1532 H, both having been purpose-designed to match the tractor's greater performance and extended working capabilities. The front axle has a maximum load capacity of 1,200kg making it ideally-suited for front loader work - a job that is further enhanced by the seamless changes in speed and direction offered by pedal-operated hydrostatic transmission.
Class-leading operator comfort and controls
The tractor's new, larger 'floating floor' platform is carried on cushioned mounting points which, when combined with a new deluxe floor mat, provide a significant reduction in noise and vibration levels, considerably increasing operator comfort.
The spacious, uncluttered operator platform is equipped with a newly-designed instrument panel featuring clear analogue dials for engine speed, fuel level and temperature, accompanied by a line of warning lights above. Operating levers are ergonomically arranged around the dash panel and to either side of the driving position for maximum ease of operation. To improve access for servicing and daily maintenance, the bonnet hinges at the rear, raising to a position completely clear of the engine.