Case IH has launched three Axial-Flow 4000 Series combines, the 4077, 4088 and 4099, aiming to meet the specific requirements of customers in Africa and the Middle East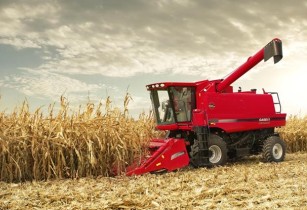 High harvesting capacity combined with unsurpassed grain quality. (Image source: Case IH)
Designed in the USA, the three Axial-Flow 4000 Series models incorporate a high level of American-made components for maximum reliability.
Compact dimensions, premium comfort and advanced features are combined with high harvesting capacity, thorough crop threshing, low grain losses, gentle grain handling and unsurpassed sample quality. These benefits are characteristic of Case IH Axial-Flow single-rotor technology, which has become the benchmark for harvesting quality and performance since the first Axial-Flow combines were launched in 1977.
"The 4077, 4088 and 4099 are the most productive combines in their class," stated Marcin Ruppert, Case IH marketing manager for Africa and the Middle East.
"Owners can move from corn to wheat, to sorghum, to rice in hours, compared with almost two days for conventional or hybrid combines, so more time is spent harvesting and seasonal output is increased," Ruppert commented.
Axial-Flow 4000 Series can be equipped with the Case IH headers, which are available in widths up to 6.1 metres or eight rows for corn. A lateral tilt feeder channel further extends the versatility of these combines by enabling them to handle the heaviest headers while ensuring perfect ground contour following, which is especially useful when harvesting soybeans or laid crops.
For optimum cutting performance, high capacity 2060 Series grain headers can be fitted. Available in widths of 4.57 metres, 5.18 metres and 6.10 metres, they feature a robust mechanical reel drive and represent state-of-the-art, proven grain header technology. Axial-Flow 4000 Series combines can be equipped with a 6.10 metres 3020 flex header or 3.66 metres 3016 pick-up header for windrowed crops.
At the heart of every Axial-Flow 4000 Series model is the legendary 610mm-diameter, 2,451mm-long Case IH Axial-Flow rotor, which provides a total separation area of 1.23 sq m and rotates at speeds from 250 rpm up to 1,150 rpm.
The grain-on-grain threshing action that the Axial-Flow rotor provides limits grain losses through more effective separation and ensures that grain which goes into the tank is of the highest quality to generate maximum value. At 0.47 per cent, the average cracked grain content for an Axial-Flow combine is a fraction of the 1.67 per cent level recorded for a competitor model with a conventional threshing drum.
Large grain tanks feature on all models to maximise the time spent harvesting. The 4077 is fitted with a 5,000-litre grain tank and 4.1m auger which unloads at the rate of 63 l/sec, while 4088 and 4099 models have 6,000-litre and 6,500-litre grain tanks, together with 5m augers which unload at the same rate.
To optimise their performance potential, Axial-Flow 4000 Series combines are fitted with a spacious, comfortable cab which incorporates over 3.74 sq m of glass area, providing the operator with a panoramic view and excellent visibility over the header.