Pöttinger has introduced TERRASEM universal seed drills for mulch drilling, conventional drilling as well as direct mulch drilling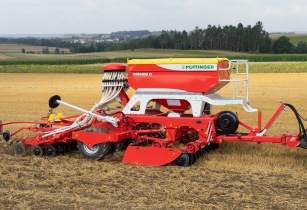 Because there is one pass, water evaporation is minimised and an erosion resistant layer is left behind on the surface. (Image credit: Pöttinger)
On TERRASEM mulch seed drills, soil preparation is taken care of by a two-gang disc harrow with smooth or scalloped discs. "The rubber-mounted 510mm-diameter discs loosen the soil across the entire working width. At seed level they leave behind a structured layer of tilth," explained Pöttinger.
According to the company, the TERRASEM is a min-till seed drill that is set to drill directly behind the combine harvester (such straight into stubble) and complete the working steps in a single pass.
The first working step is carried out by the fully-fledged compact disc harrow with its disc geometry and disc angle. The second step is the consolidation of the loosened mixture of soil and straw.
"It promotes the capillary effect to make sure the seeds are supplied with water during the germination stage. Then the seeds are sewn into the consolidated soil. The seed is placed in the seed slot by a DUALDISC coulter mounted on a parallel linkage. The coulter has the necessary pressure to place the seed in the right water-bearing layer," Pöttinger noted.