Zoomlion Heavy Machinery Co. Ltd, Chinese manufacturer of construction machinery and sanitation equipment, has revealed plans to strengthen agricultural cooperation between China and Africa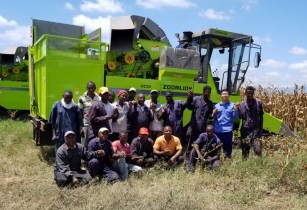 Considering the huge market potential in Africa, Zoomlion is planning to select good African countries with good industrial foundation to localise parts of the production. (Image source: Zoomlion)
During the First China-Africa Economic and Trade Expo in Changsha, the company revealed plans to modernise agricultural equipment in Africa.
As earlier reported, Zoomlion announced a series of 'Africa-ready' and upgraded agricultural and construction equipment for high-temperature and humid environment in Africa, while excelling in functionality, durability and cost-effectiveness.
Agriculture is an important field in China-Africa cooperation. In 2018, China's imports from Africa increased by 32 per cent, of them 22 per cent being agriculture goods. However, the agricultural mechanisation level in Africa is not high, which make the crop productivity low, therefore there is a great potential for agricultural mechanisation cooperation between China and Africa by maximising the use of machines.
A number of Chinese enterprises in agricultural technology and plantation field, as well as the agricultural machinery enterprises such as Zoomlion plane, strive to tap the segmented fields in Africa in the process of agricultural modernisation. For the promotion of agricultural mechanisation cooperation with African countries, Zoomlion has formed a long-term strategy to share in African agriculture modernisation under the principle of a win-win situation.
During the exhibition, Zoomlion signed an MoU with Tractors & Engineering Company, Egypt's agriculture equipment company, to help agriculture field develop in Egypt.
At the Seminar on China-Africa Agricultural Cooperation and Development, Jimmy Pan, vice-president of Zoomlion Heavy Machinery Co. Ltd, said that Zoomlion aims to promote the agricultural mechanisation cooperation with African countries. To solve the problems which the African countries face, including the low agricultural mechanisation level as well as the problems in the technology, finance and talent, Zoomlion has unveiled solutions to customise agricultural machines to be suitable for local needs in African countries.
Additionally, the company is willing to provide consulting services and technical support to the agricultural mechanisation and the technological solutions for local enterprises. It further added that it is willing to help African countries to create modern agricultural planting mode and to cultivate local agricultural mechanisation talent.
In respect of cultivation of agricultural mechanisation talent in Africa, Zoomlion plans to set up some pilot projects in Africa and cooperate with local governments and plantations to set up some modern agricultural cooperation demonstration zones. During the process, it will employ advanced agricultural equipment as well as mechanical cultivation and management methods with an aim to create high-quality planting mode in line with the conditions of African countries.
In addition, Zoomlion started to execute the plan of building 10 manufacturing bases abroad. Considering the huge market potential in Africa, Zoomlion is planning to select good African countries with a good industrial foundation to localise parts of the production and improve the supplying ability of agricultural equipment.