New Holland Agriculture, a global agricultural equipment brand of CNH Industrial N.V, has announced the opening of a new direct branch in Centurion, South Africa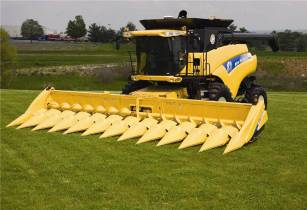 New Holland CR9065 combine harvester. (Image source: newhollandag/Commons)
The branch replaces New Holland's former distributor and will give the brand the ability to directly and exclusively distribute and support its full product line-up and services in Southern African countries including Botswana, Lesotho, Namibia, South Africa and Swaziland.
At a presentation announcing the branch's establishment, Carlo Lambro, New Holland Agriculture Brand President and a member of the CNH Industrial Group Executive Council, said: "Our leading role in building the future of agriculture underlines our commitment to forging a new path in Southern Africa through innovations, advanced technology, appropriate mechanisation, professional support and distribution, and expertise in agricultural practices."
New Holland currently counts 17 dealers within Southern Africa providing after sales service and support for tractors and combines. By establishing this site, the brand aims to further expand its direct commercial involvement in Southern Africa, providing customers with the best possible all-around support and focus on the suitability of products that are specific to local customer needs.