Case IH, the international brand of agricultural equipments, showcased its full line of track technology at the Nampo 2017 in Africa, and presented wide range of tractors that revolutionise the combine harvesting with simplicity, grain quality and crop adaptability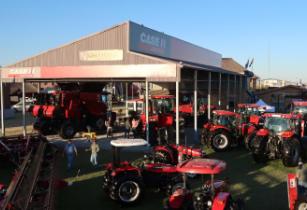 The brand's full range of agricultural solutions were on display at Nampo 2017. (Image source: Case IH)
Nampo harvest day is the largest exhibition of agricultural machinery, latest farming technology and products in Africa and the Middle East, which celebrated its 50th anniversary in 2017.
Northmec, Case IH's South African distributor, showcased the brand's entire range of agricultural solutions that include latest models of high-tech tractors like Magnum Rowtrac, the Magnum CVT Rowtrac, and the top-of-the-range Quadtrac 600, which has established itself firmly as the leader among high-hp tractors for traction, flotation and a narrow transport width.
In addition, Case IH displayed their extensive tractors with models ranging from 35-75hp simple and economical JXT, the 80-90hp Farmall JXM, the 90-110 hp Farmall JX, the 125-141 hp Maxxum, the multi-purpose 142-225 hp Puma, the proven 250-340 hp Magnum and Magnum CVT, all the way up to the mighty 608 hp Steiger 600.
Case IH also presented its new flagship model Axial-Flow 9240. The model stands out for its exceptional flotation with its ability to free movement of the single suspension cylinder, resulting an even ground pressure across the track surface. In addition, the suspended track drastically reduces ground pressure which reduces soil damage, and the combine is able to operate even in soft soil conditions.
Jacques Coetzee, product manager of Case IH at Northmec, stressed, "Our new Axial-Flow flagship combine harvester on tracks and brand new SPX sprayer attracted a lot of attention."
"The exhibition was a success with the Case IH stand attracting a high number of visitors throughout the week. The Case IH team was there with us to welcome customers from across the region and discuss their requirements. We work as a team – farmer, distributor and manufacturer – to help every farmer succeed," he added.