AGCO will further develop its Challenger farm machinery business, a part of AGCO's global strategy program, in Africa for the expansion of this leading brand in the African region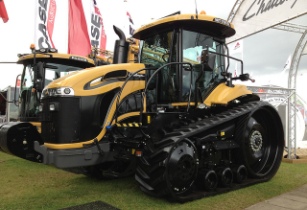 Challenger offers high-performance tracked tractors and sprayers built by AGCO in North America for the African market. (Image source: Jambox998/flickr)
Challenger is AGCO's core brand in Africa, Asia-Pacific and North and South America. The Company targets to expand its product portfolio and utilise its established brand equity and dealer network strength to propel further growth in the African region.
AGCO is a global leader in the design, manufacture and distribution of agricultural solutions and world's most trusted brand to support productive farming through its complete range of farming equipments and related services.
AGCO's Challenger Manufacturing Plant in located in Jackson, Minnesota, and has been the subject of multi-million dollar investments over the last five years including a 75,000 sq ft expansion to the tractor assembly line and the opening of a new visitors' centre.
In 2013, AGCO announced a US$42mn venture for the Challenger farm to improve manufacturing quality and increase production capacity. The upgradation included new component manufacturing facilities, use of new robotic welders, end-of-line quality testing, new engineering capabilities using virtual reality modelling in 3D.
AGCO has proposed to integrate Challenger with Fendt from January 2018 in Europe and Middle East (EME), as Challenger product has undergone more of a niche market position in the region. Fendt is AGCO's partner brand that manufactures agriculture tractors and machines. The proposed change in EME region is projected to be a very important step for the company to best serve its customers and dealers with a wide range of farm enterprises and machinery equipments.
AGCO confirms that the proposed change in the EME region will not affect Challenger's business in the USA, Africa, and Asia-pacific region.