New Holland's T3F.75F tractor has won 'Best of Specialized' title for 2015 at EIMA in Italy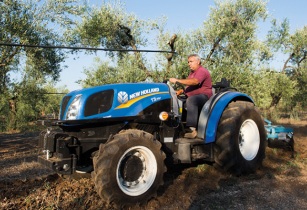 The lightweight T3F Series tractors can move with ease between rows in flied. (Image source: New Holland)
Case IH Magnum CVX 380 was awarded the 'Tractor of the Year'.
The T3F series tractors are designed to meet the needs of professional fruit growers and vineyards businesses. The tractors have a power range from 36.8kW to 53kW.
Luca Mainardi, head of tractor and telehandler product management, said, "New Holland has recently strengthened its leadership in the specialty orchard and vineyard tractor segment with the launch of the new T3F series that give growers all the compactness, manoeuvrability and reliability they need for their in-field chores."
EIMA is a European show for agricultural machinery and equipment, which took place in November 2014 in Bologna.
Carlo Lambro, brand president of New Holland Agriculture, said, "This award testifies the hard work and dedication of all those involved in the development of the T3F series.
"There are four models in the T3F series, which are built to satisfy all power demands even in intensive orchard applications. They are equipped with tier-3 compliant engine technology, which ensures low emissions, low noise and vibration levels and maximum fuel efficiency."
Features of T3F series include
• An ultra-narrow body, which makes it easier to move with ease between rows of crops.
• A lift capacity of up to 2,277 kg.
• Two fixed displacement hydraulic pumps with a total flow rate of 84 litres per minute
• Lift-O-Matic rear linkage control is standard throughout the range and enables operators to lift and return rear mounted implements to a pre-set position by using a single control.
• Suspended platform assures noise and vibration isolation.