South Korea has completed building Cameroon's first mechanised rice farming district, which will help modernise the African country's overall agriculture industry and improve food production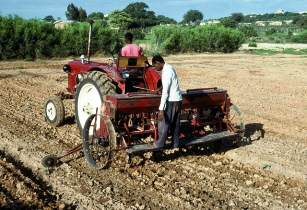 For the project, the South Korean Ministry readjusted 20 hectares of arable land to allow mechanised farming while also building new training and storage facilities. (Image source: Africa Renewal/Flickr)
The US$2.18mn project began in late 2011 as part of South Korea's official development aid, according to the Ministry of Agriculture, Food and Rural Affairs.
For the project, the South Korean Ministry readjusted 20 hectares of arable land to allow mechanised farming while also building new training and storage facilities.
"This project seeks to provide an example for the mechanisation of farming in Cameroon which, hopefully, will help train new farming experts and improve the country's overall agriculture productivity," a Ministry official said.
Full ownership and operating rights of the new mechanised farming district in Cameroon's central Haute-Sanaga region have been transferred to local authorities.
In addition to the new farming district, South Korea is also building a research facility under a separate project to develop a new optimum breed of rice for Cameroon. The research facility, to be built by 2018, will consist of a training centre, along with living quarters.