Pöttinger has rolled out its latest series of hitch-mounted reversible ploughs, the SERVO 4000. These ploughs comprise of a simple and intuitive control centre with an extremely robust turnover mechanism and a high-strength frame as well as optimised mounting geometry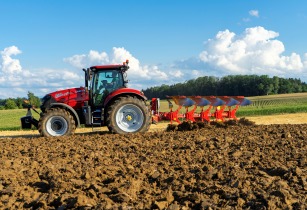 Pöttinger has rolled out its latest series of hitch-mounted reversible ploughs, the SERVO 4000 (Image source: Pöttinger)
The new hitch-mounted reversible ploughs are offered in Standard, NOVA, PLUS and PLUS NOVA versions with four to six furrows. Out of these four versions, the NOVA and PLUS NOVA plough versions feature hydraulic stone protection with an adjustable triggering pressure of up to 1,400 kg, thus enabling uninterrupted ploughing while also preventing damage.
The ploughs also come with a TRACTION CONTROL system which allows weight to be actively transferred from the plough to the rear axle of the tractor, resulting in an increase in traction. This in turn ensures efficient ploughing along with reduced wheel slip, while at the same time minimising harmful compaction of the soil. Preventing compaction promotes plant growth, soil life, and access to water and nutrients. In addition, it also reduces fuel consumption by up to 10%, making it highly cost effective.
Moreover, Pöttinger has developed headstocks that adapt to the different hitch geometries that tractors with varying power classes come with. A wide range of adjustment options allows it to be ideally matched to the tractor. In addition to the standard mounting axles in various categories, a mounting axle with enclosed linkage and a steered axle are also available. The optimised geometry of the headstock is what makes the plough easy to lift. For a wide range of applications, these ploughs are designed, depending on the equipment options fitted, for tractors between 140 and 360 hp.
The newly designed SERVOMATIC control centre with four-joint linkage makes it even easier and quicker to set up the plough correctly and adjust it to different tractors. Hydraulic adjustment is also available as an option. The curved cast yoke gives the SERVO 4000 a wide range of front furrow adjustment. For high versatility, the settings cover tractor inside track widths between 1,000 and 1,500 mm. In special situations, further fine adjustments are still possible. If required, the working width on the PLUS and PLUS NOVA ploughs can be hydraulically adjusted to the soil conditions, the required working results, the ploughing depth and the tractor power.
The plough beam has been engineered to absorb the forces acting on it during ploughing. The beam link is made of high quality cast steel which guarantees higher strength and durability. The robust frame construction, the powerful turnover mechanism, and the NOVA stone protection system all ensure relentless operation in all conditions. In addition to this, the best quality tilth and the reliable incorporation of plant residues and straw ensure a clean and tidy ploughing pattern as a good basis for the next crop and financial success.