Pöttinger has launched two TORRO COMBILINE models with a view to contribute to sustainable increase in effectiveness, efficiency and quality in agricultural production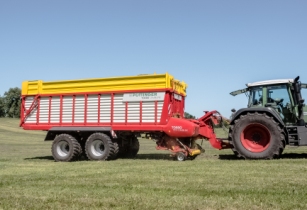 TORRO 7010 L COMBILINE. (Image source: Pottinger)
The TORRO COMBILINE series now includes two larger models: the TORRO 7010 with a DIN loading volume of 40 cu/m (L) and 38.5 cu/m (D) and the TORRO 8010 with a DIN loading volume of 43 cu/m (L) and 42 cu/m (D). The new models offer the highest level of cost-effectiveness owing to an optimum price-performance ratio and high output.
All TORRO COMBILINE models are available with an optional four tonnes drawbar. The high drawbar load aims to give improved traction in the field and clamp and increases the reliability of the loader wagon. The new loader wagon models come with a side control concept. The side-mounted control pane, with its new control platform using a CAN-BUS system, offers a good overview of all additional functions like the knife bank, AUTOCUT, scraper floor, etc. The new TORRO COMBILINE can be equipped with an optional driver assist system.
The new weighing system allows dynamic weight display (approximate value, net weight of load) while driving. Moreover, the maximum load of the wagon can be preset and displayed. The display turns red and a warning signal sounds if this weight is exceeded. The system is operated using a power control terminal.
DURASTAR loader wagon knives
The new DURASTAR loader wagon knives have a hard and wear-resistant cutting edge, leading to a greatly extended service life. The special shape of blade and knife aims to create a self-sharpening effect for durable and smooth operation besides enabling lower fuel consumption and higher chopping quality.