ROPA, Germany-based family-owned harvester manufacturer, has collaborated with Volvo Penta, aiming to gather a growing share in the global farm equipment machinery industry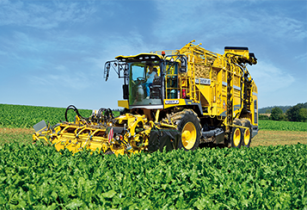 The ROPA Tiger 6 is the most powerful sugar beet harvester in the world, and is powered by a 16-liter Volvo Penta engine. (Image source: Volvo Penta)
The harvesting season for sugar beets may be short but its super intensive. Between September and November, weather permitting, harvesting machines operate up to 24 hours a day. Any delays during this time can result in spoiled produce and a loss of business.
ROPA is a leading global manufacturer with a broad range of products for harvesting sugar beets and potatoes, which are used in more than 40 countries. The Paintner family still owns and operates a farm in Sittelsdorf, near Munich, with other facilities such as a state-of-the-art production site, a research and development unit and a pilot biogas plant for generating power and heat from sugar beets.
In 2016, ROPA began using two of Volvo Penta's 16-litre engines in its Tiger 6 and Panther 2 models – its premier sugar beet harvesters. Some of the major reasons for the selection were the engines' reliability and good fuel efficiency. But it was also important to ROPA to be able to access help easily from Volvo Penta at its production plant, and for its customers to be able to get their machines serviced conveniently anywhere in the world from the Volvo Penta Global Dealer Network.
"Our goal is to have engines in our machines that can operate between 13,000 and 15,000 hours without major repairs," says Gruber. "In addition, we need customer support in all the countries where we deliver. If an engine is not working because of a lack of spare parts or service technicians, then for the customer the entire machine is bad."
The three-axle Tiger 6 is the world's most powerful sugar beet harvester and has won several awards for its performance, efficiency, and innovative design. The two-axle Panther 2 is a smaller, more compact machine for use where extra mobility is required.
"The success of our engines in ROPA's machinery has been shown through the popularity of the Tiger 6 and Panther 2," said Jochen Engelmann, head of industrial sales for central Europe at Volvo Penta.
"We have established a strong relationship with ROPA and will continue to collaborate with them to ensure we cater for their needs. Our engines provide great fuel efficiency and robustness for a market where seasonality requires excellent productivity for the duration of harvesting periods," Engelmann added.