Volvo Penta will present a range of Stage V-compliant products and solutions that meet the needs of farmers and agricultural companies at EIMA exhibition in Bologna from 7-11 November 2018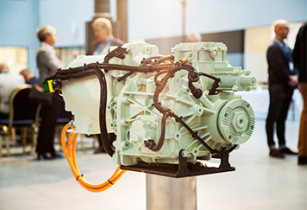 Volvo Penta has pledged to offer electric drivelines across its range by 2021. (Image source: Volvo Penta)
The company will display two models – a five-litre engine and 13-litre engine, along with an Exhaust Aftertreatment System (EATS) – as well as an electric driveline.
"Stage V not only represents the future of environmental care but also the possibility for OEMs in Europe to boost production and to win business, offering a product in line with the European emissions legislation," said Renato, sales manager for industrial engines in Italy and Spain.
Deda further commented that Volvo Penta is a growing player in the agricultural sector and the company aims to focus on the customers' needs across the global service network.
Stage V: Low emissions convenience
Volvo Penta's Stage V technology meets tougher emissions standards and takes a step towards a more sustainable future. The combination of robust engines that perform well in even the toughest off-road applications, along with the perfectly matched EATS, deliver a power source that optimizes uptime, performance and fuel efficiency.
The company's Stage V range offers power from 105 to 565 kW (143-770 hp).
Electromobility: Bright sparks of the future
Volvo Penta recently announced its pledge to offer electric drivelines across its range, by 2021. Advances in electric-drive technology and improved battery capacity are underpinning developments. The company will use EIMA to discuss these developments with customers and visitors to the show.
"The competing needs of environmental sustainability and customers' business requirements are getting ever closer, as electrified options become increasingly feasible," added Peter Granqvist, chief technology officer at Volvo Penta.
In leveraging the Volvo Group's proven platforms, harnessing the latest technology for energy storage in batteries, and in collaborating directly with customers, Volvo Penta will create win-win electromobility solutions that allow customers to move their businesses forward.
Volvo Penta will be exhibiting in Hall 15 Stand C18 at EIMA.