UN's food assistance branch World Food Programme (WFP) has donated 60 solar grain dryers worth US$39,104.64 to smallholder farmers in Rwanda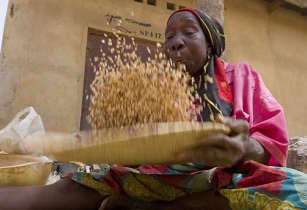 The solar grain dryers will help to strengthen capacity to quickly and adequately dry agricultural produce. (Image source: Gates Foundation/Flickr)
According to WFP, the Grain-Pro Collapsible Dryer Cases have ventilation fans, which are powered by either solar energy or grid power.
Gustave Nshimiyimana, head of Rwandan Ministry of Agriculture, said, "Farmers have to keep quality produce for a long time until the government buys it. In this case, they need dryers like the ones we have been given by WFP. This product will also help farmers to produce good quality of maize for international markets."
Francisco Mendes, programme coordinator at WFP, added that the aim of distributing the solar grain dryers is to maximise the quality of grain, reduce post-harvest loss and help farmers to be able to deliver quality food to the market.
"The dryer cases are low-cost solution for safe, effective and convenient drying of a vast range of agricultural commodities. It does not need fuel or electricity because it uses solar energy, which is the simplest and most economical drying method," he noted.
WFP assists more than 40,000 smallholder farmers in eastern, northern and southern provinces of Rwanda, revealed Mendes.