Case IH organised a 'Sugarcane Camp' workshop in Australia for its key African sugarcane customers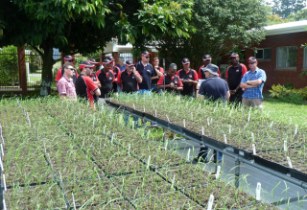 The participants visited various growing areas in the country to view different conditions and approaches to farming. (Image Source: Case IH)
The workshop began in Townsville, a sugar-growing district in Australia, with an introduction of the Austoft sugarcane harvesters and an overview of the Australian sugar industry. The participants were then taken on field visits to see seed cane harvesting, planting operations and land preparation.
The event continued with a visit to the Sugar Research Australia Plant breeding facility to discuss plant breeding and variety selection. The company also organised a trip to a local mixed sugar and vegetable farm in Cairns which had a railhead and a major port, which was established to service the agricultural market of the Atherton Tableland region – including sugarcane export.
The last stop for Sugarcane Camp was in Sydney where the African customers were invited to share ideas and experiences from their own regional industries.
CLM Civil Contractors Limited managing director Conrad King, who participated in the event said, "It was a fantastic event. I really enjoyed learning about the differences between the Australian sugarcane approach and the African one. In Africa all planting and harvesting operations are done by hand while in Australia they do not use any labour, they rely on mechanisation. I believe that in the next 5 to 10 years, Africa will have to invest in the mechanisation process if we want to remain competitive."