Driven by rapid advances in sensor technology, Systems & Components trade fair taking place from 12-18 November in Hanover, Germany, will showcase the evolution of mobile machinery, presenting powerful assistance systems that unburden the driver and increase efficiency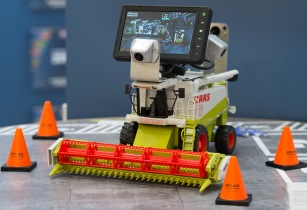 The Systems & Components trade show will present a wide range of solutions for measuring every aspect of agricultural processes. (Image source: DLG)
Working alongside their OEM customers from the outset, the exhibitors at the B2B platform, taking place in parallel to Agritechnica, are developing market-relevant solutions that meet their customers' automation needs.
Smart sensors that not only measure but also process data into a usable form are already used extensively on off-highway commercial vehicles. Where several measurements of the same scenario, for example the state of a crop in the field, are taken using different sensors, 'sensor fusion' algorithms can combine and compare this data from different sources and offer more reliable recommendations.
At the Systems & Components trade fair, progress will be reflected in the phased and demand-driven approach that technology providers are taking to development - starting with warning functions in the cockpit, through semi-autonomous systems that support the driver, to complete telematics packages that increase the efficiency of machines even in remote regions. Engineers, developers and fleet managers will be able to find a complete toolbox for almost all sensor applications in mobile machinery.
Exhibitors at the show draw on a broad technology portfolio from the automotive sector, which they are continuously developing for off-highway use, above all, 24 Volt compatibility and the IP69K rating. In addition to radar sensors, systems using other sensors like ultrasonics or cameras can be flexibly configured and tailored to the requirements of the specific application.
In order to interpret the sensor data, powerful 'data fusion' algorithms that are increasingly using artificial intelligence (AI), provide a detailed representation of the environment surrounding the vehicle. In advanced steering system solutions, sensor fusion facilitates autonomous operation in the field, such as precision farming with modern plant row recognition or precise section control. Using GPS, the machines follow specified routes with high accuracy, reducing overlapping and the associated excess use of pesticides or fertilisers.