Algerian government minister Abdelkader Kadi has this week outlined the country's agriculture policy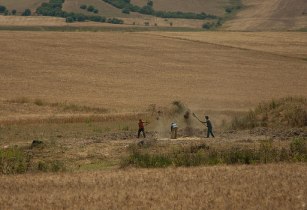 Kadi says the rural development policy focuses on smallholder farmers. (Image source: Hiche Merouche/Flickr)
Speaking to delegates at the 39th conference meeting of the United Nations Food and Agriculture Organization (FAO) in Rome this week, the minister for agriculture and rural development said the government was focused on the balanced and harmonious development of rural areas.
Small-scale agriculture was key to the strategy, Kadi said, being that this was the primary source of income for Algeria's rural populations.
The provision of land and water had been, and will continue to be central to the National Policy of Agricultural and Rural Renewal, along with access to improved seeds, fertilisers and pesticides and various other government subsidies.
The measures employed so far had enabled the country to yield "positive results", including a 13 per cent average annual growth rate for the agricultural sector, an 88 per cent increase in the value of agricultural production and a 9.8 per cent contribution to the national GDP.
In addition to farming, the rural development policy also included aspects such as the expanded provision of healthcare, electricity and other public services for remote areas.